The WorldSkills finals were held in Sao Paolo, Brazil from 11th to 16th August and Louise Keevil, Director of Corporate Services at Derwen College, joined the UK delegation, where UK competitors gained an amazing three gold, four silver and 2 bronze medals.
Natspec have been the driving force behind the fight for developing the model for an inclusive approach to competition for learners with learning difficulties and disabilities. It is our vision that these learners will compete at international level in vocational skills competitions, alongside their mainstream peers, at their appropriate level.
Working in close partnership Natspec, Find a Future, AELP and the Association of Colleges are hoping to take the first UK competitors to the Abilympics in Bordeaux in March 2016.
Abilympics is currently the only opportunity for competing internationally available to learners with disabilities. First held in Japan in 1981, it is very much eastern influenced, but has been embraced by Skills Finland who train the Finnish national team for WorldSkills.
It will be the first time that Abilympics have been held in Europe since its conception.
The WorldSkills 2015 finals proved to be the ideal opportunity for the dynamic group that was Natspec, Association of Colleges, Find a Future, Finland and France to come together in discussions to move the vision forward.
It is anticipated that the selection process for the chosen categories will take place at the Skills Show being held at the NEC in Birmingham 19-21 November 2015.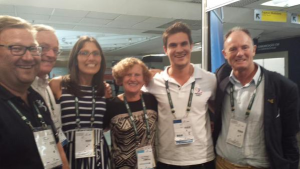 Image shows: UK delegates meeting with members of the Abilympics movement at WorldSkills finals in Sao Paolo, Brazil. Left to right Matti Kauppinen (Finland), Noel Roger (France), Louise Keevil (Derwen College/Natspec), Jill Goddard (Find a Future), Benoit Roger (France), David Smith (Association of Colleges).